Previous Winners
Previous winners of the Chef v Chef competition.
Professional Chef Category 2020:
GOLD Dean Toon – Blunsdon House Hotel
SILVER Frazer Carroll – No 15 Great Pulteney Street
BRONZE Henry Scott – Henry's Restaurant
Student Chef v Chef 2020
Knife skills challenge:
GOLD Joseph Rowe
SILVER Jack Goult
BRONZE Rebekah Paisley
Levels 2&3 Team challenge: 
150 mins to prepare and serve a paupiette of plaice served with an appropriate sauce and potato garnish. Dark milk Chocolate tart with a suitable accompaniment (coulis, anglaise…). 1 dish for judging, one for display
GOLD team Marcus Wareing - Lucy Knight (level3), Emily Hunt (level3), Eryn Beales (level2)
SILVER Team- Angela Hartnett - Vikki Pearcey (level3), Ciara Lambert (level2), Esme Tozer (level2)
BRONZE  Team Paul Bocuse - Ollie Russell (level3), Daniel Shemilt (level3), Sophie Strong (level2)
Front Of House challenge
Cocktail demonstration; napkin fold, role play scenarios, with description of the dishes and wine pairing
GOLD Daniel Shemilt
SILVER Destiny Smith
BRONZE Emily Hunt
Professional Chef Category 2019:
GOLD Jethro Lawrence - Woolley Grange Hotel
SILVER Andrew Jenkinson - Lucknam Park Hotel & Spa
BRONZE Fraser Jones - Best Western Plus Centurion Hotel
Student Chef v Chef 2019
Canapés challenge:
GOLD Modesta Petrauskaite
SILVER Molly Wilson
BRONZE Samuel Rossiter
Knife skills challenge:
GOLD Will Evans
SILVER Fred Veal
BRONZE Leon Dyer
Level 3 team challenge: 
Black box challenge - design 2 course lunch menu for 6 (main and dessert) - to be served to invited guests.
GOLD Team Connaught (Florence Sewell, Keziah Morgan, Thomas Will_
SILVER Team Gorning (Maddie Dodd, Jasmine Barnett, Ben Colley)
BRONZE team Savoy (Rosa Juodaky, Connor Adamson, Lewis Nash)
Level 2 Team Challenge:
100 mins to cut and prepare a braised chicken forestiere, poached eggs mornay, florentine style
GOLD Team Pineapple (Destiny Smith, Liam Cottle)
SILVER Team Strawberry (Lucy Knight, Emily Hunt)
BRONZE Team Orange (Vikki Pearcey, Kaitlin Ellis)
Front Of House challenge
GOLD Ben Colley
HIGHLY RECOMMENDED Thomas Will
Profesisonal Chef Category Winners 2017
GOLD Daniel Vosper from the King William, Bath
SILVER Simon Mealing from the Garrick's Head, Bath
BRONZE Fraser Jones from the Centurion Hotel, Midsomer Norton
Student Team Event Winners 2017:
GOLD Lucas Fellender, Maria Parker-Cook and Joshua Yoell
SILVER Soraya Adams, Emma Pinfield and William Ferris
BRONZE Molly McKechnie, Maddie Walker and Sophie Jones
Chef v Chef 2016
(under 23s)
Gold - George Ormond
Silver -Jessie Ball
Bronze - Oliver Dunn
Highly Commended - Liam Cook, Maria Parker-Cook & Ioseff Sambrook
(over 23s)
Gold - Kai Bingham
The Bath Priory
Silver - Mike Evans
The Pig
Bronze - Harley Ford
The Battle Axes
Woods Restaurant donated a meal for two for the winner of the professional category and there were donations of vouchers towards meals for two from Cote Restaurant £50.00. Yo! Sushi £30.00 and Burger and Lobster £50.00. With many thanks to them all for supporting the competition.
 
Letter to winner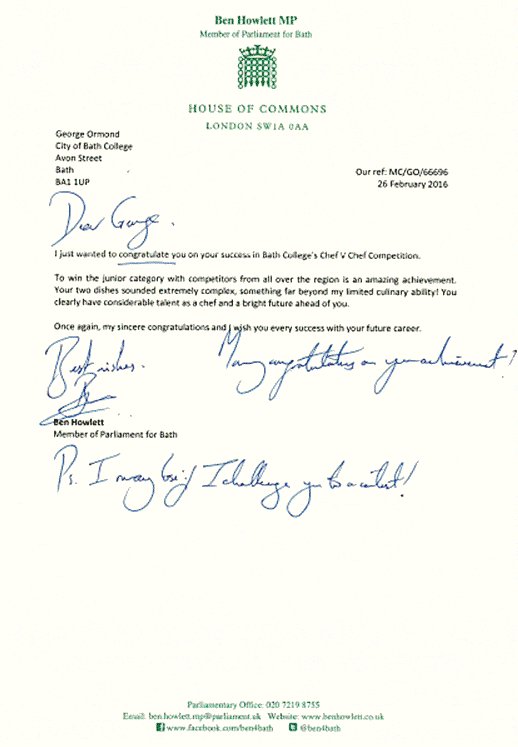 Chef v Chef 2015
(under 23s)
Gold - Jessica Conway
Silver - Chloe Matano
Bronze - Oliver Rose
Highly Commended - Oliver Dunn
(over 23s)
Gold - Alex Brownrigg
The Manor House
Silver - Martin Blake
Homewood park Hotel and spa, Bath
Bronze - Hayley Smith
Lucknam Park Hotel
Chef v Chef 2014
(under 23s)
Gold- Alex Brownrigg
Homewood park Hotel and spa, Bath
Silver- Katherine Stamp
The Castle Hotel, Taunton
Bronze- Jack Barrett
The Royal Crescent Hotel, Bath
(over 23s)
Gold: Martin Blake
Homewood park Hotel and spa, Bath
Silver- Matt Flowers
The Porter, Bath
Bronze- Daniel Edwards
The Marlborough Tarven, Bath
Chef v Chef 2013
(under 23s)
Gold: Lewis Dixon
Lumiere, Cheltenham
Silver: Paul Goulding
Stanton Prior Hotel, Chippenham
Bronze: Andrew Campbell
The Royal Crescent Hotel, Bath
(over 23s)
Gold: Stephen Whittaker
Graze Restaurant in Bristol
Silver: Martin Blake 
The Priory Hotel, Bath
Bronze: Christian Abbott
Brace and Browns in Bristol
Chef v Chef 2012
(under 16s)
Gold: Cerys Lambert
John of Gaunt School
Silver: Seb Shore
Norton Hill School
Jordan Millls
Writhlington Business & Enterprise School
(under 23s)
Gold: Christian Abbot
Brace & Browns
Silver: William Gayler
The Wheatsheaf, Combe Hay
Bronze: Laura Deaker
City of Bath College
(over 23s)
Gold: Stephen Whittaker
Mint Hotel, Bristol
Silver: Kamil Nawalka Wojciech
Longleat Homewood Park Hotel
Bronze: George Kosta
Ronnies Restaurant, Thornbury
Chef v Chef 2011
(under 16s)
Gold: Seb Shore
Norton Hill School
Silver: Alfred Lewis
Ralph Allen School
Bronze: Joshua Hobbs
Norton Hill School
(under 23s)
Gold: Chris Emery
The Wheatsheaf, Combe Hay
Silver: James Horwood
Hunstrete House
Bronze: Claire Wilkins
City of Bath College
(over 23s)
Gold: Timothy Ashton
Cheltenham Park Hotel
Silver: Kevin Francis
Guyers House Hotel
Bronze: Kamil Nawalka Wojciech
Bowood Hotel
Chef v Chef 2010
(under 16s)
Gold: Ashley McArdie
City of Bath College
Silver: Jake Moxham
City of Bath College
(under 23s)
Gold: Niall Keating
The Bath Priory Hotel
Silver: Jerry Adam
Olive Tree Restaurant
Bronze: Leah Wynes
Bowlish House
(over 23s)
Gold: Maiko FuKazu
City of Bath College
Silver: Thomas Hine
The Bath Priory Hotel
Bronze: Michael Sharp
Olive Tree Restaurant
Chef v Chef 2009
(under 16s)
Gold: Curtis Hill
Culverhay School (City of Bath College Apprentice)
Silver: Rosie Gay
Chew Valley School
Bronze: Lorna Burnell
Chew Valley School
(under 23s)
Gold: Ben McCubbin
Royal Crescent Hotel, Bath
Silver: Michael Mellard
Whatley Manor, Wiltshire
Bronze: Luke Powell
The Wheatsheaf at Combe Hay
(over 23s)
Gold: Woyciech Nawalka
Ston Easton Park Hotel, Ston Easton
Silver: Michael Sharp
Royal Crescent Hotel, Bath
Bronze: Callum O'Doherty
Thatched Cottage, Shepton Mallet
Regional Final Chef v Chef 2008
(under 23s)
1st: Leigh Evans
Royal Crescent Hotel, Bath
2nd: Sean Horwood
Moody Goose, Midsomer Norton, Bath
3rd: Sam North
The 3 Choirs Vineyard, Cheltenham
4th: Luke Hawkins
The Pony & Trap, Chew Magna
(over 23s)
1st: Robert Potter
The Dial House Hotel, Cheltenham
2nd: Pieter Swanepoel
Formerly Royal Crescent Hotel, Bath
3rd: Ryan Mills
The Greenway Hotel, Cheltenham
4th: Wojciech Nawalka
Ston Easton Park Hotel, Somerset
5th: George Kostka
Boca Bar, Bristol
Chef v Chef 2008
(under 23s)
Gold: Sean Horwood
Moody Goose
Silver: Leigh Evans
Royal Crescent Hotel
Bronze: Georgie Smith
City of Bath College
Finalists:
Jeremy Lapounge, Francis Hotel/Mercure
Ben Mullins, Lucknam Park Hotel
Charlie Johnston, Royal Crescent Hotel
(over 23s)
Gold: Pieter Swanepoel
Royal Crescent Hotel
Silver: Wojciech Nawalka
Ston Easton Park Hotel
Bronze: John Hornsey 
The Queensberry Hotel & Olive Tree Restaurant
Finalists:
Michael Boyce, Queensberry Hotel
James Perry, Dukes Hotel
Leigh Phillips, Firehouse Rotisserie
Chef v Chef 2007
(under 23s)
Gold: Maiko Fukazu
Full time student, City of Bath College
Silver: Martin Rode
Francis Hotel, Bath
Bronze: Laura Merrick
Woods Restaurant, Bath
Finalists:
Dean Mallows, The Old Bear Inn
Ben Hammett, Woods Restaurant
Oliver Battams, The Hole in the Wall
(over 23s)
Gold: Ross Lee Tyre
Cavendish
Silver: Elisha Carter
Charlton House Hotel
Bronze: Tom Symons
The Queensberry Hotel & Olive Tree Restaurant
Finalists:
Johnathan Gallais, The Old Bear Inn
Stephen Derry, Green Park Brassiere
E Wilcox, Thermae Bath Spa Hotel
Chef v Chef 2006
(under 23s)
Gold: Rob Tanner 
Full time student, City of Bath College
Silver: Sean Horwood 
Moody Goose at the Old Priory
Bronze: Adrian Luke Williams 
Dukes Hotel, Bath
Finalists:
Ben Gregory, Woolley Grange Hotel
Joe Pothecary, Woods Restaurant
David Wakefield, Woods Restaurant, Bath
(over 23s)
Gold: Paul Nicholson
Woods Restaurant, Bath
Silver: Jonathan Gallais
Old Bear Inn, Staverton
Bronze: Andew Smith
Avenance Catering, Wessex Water
Finalists:
B.Greig, RNID, Poolmead Centre, Bath
Daniel Stanson-Winter, Pastiche Bistro, Bath
Gary Monger, Centurion Hotel, Midsomer Norton