Previous Winners
Previous winners of the Chef v Chef competition.
Chef v Chef 2016
(under 23s)
Gold - George Ormond
Silver -Jessie Ball
Bronze - Oliver Dunn
Highly Commended - Liam Cook, Maria Parker-Cook & Ioseff Sambrook
(over 23s)
Gold - Kai Bingham
The Bath Priory
Silver - Mike Evans
The Pig
Bronze - Harley Ford
The Battle Axes
Woods Restaurant donated a meal for two for the winner of the professional category and there were donations of vouchers towards meals for two from Cote Restaurant £50.00. Yo! Sushi £30.00 and Burger and Lobster £50.00. With many thanks to them all for supporting the competition.
 
Letter to winner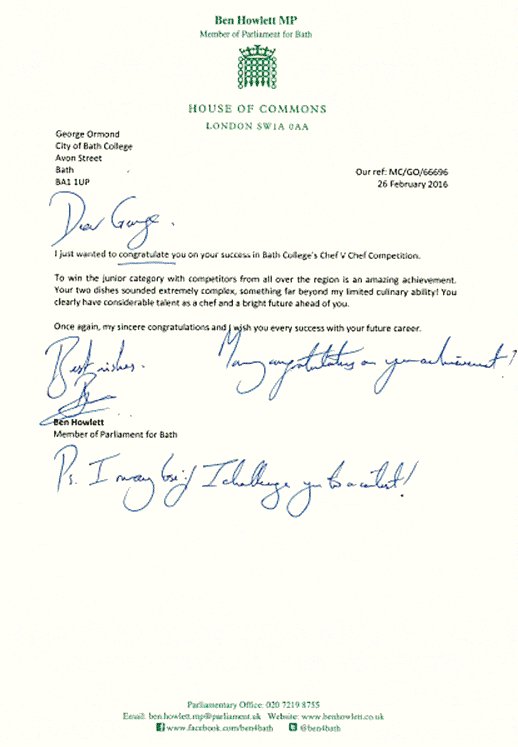 Chef v Chef 2015
(under 23s)
Gold - Jessica Conway
Silver - Chloe Matano
Bronze - Oliver Rose
Highly Commended - Oliver Dunn
(over 23s)
Gold - Alex Brownrigg
The Manor House
Silver - Martin Blake
Homewood park Hotel and spa, Bath
Bronze - Hayley Smith
Lucknam Park Hotel
Chef v Chef 2014
(under 23s)
Gold- Alex Brownrigg
Homewood park Hotel and spa, Bath
Silver- Katherine Stamp
The Castle Hotel, Taunton
Bronze- Jack Barrett
The Royal Crescent Hotel, Bath
(over 23s)
Gold: Martin Blake
Homewood park Hotel and spa, Bath
Silver- Matt Flowers
The Porter, Bath
Bronze- Daniel Edwards
The Marlborough Tarven, Bath
Chef v Chef 2013
(under 23s)
Gold: Lewis Dixon
Lumiere, Cheltenham
Silver: Paul Goulding
Stanton Prior Hotel, Chippenham
Bronze: Andrew Campbell
The Royal Crescent Hotel, Bath
(over 23s)
Gold: Stephen Whittaker
Graze Restaurant in Bristol
Silver: Martin Blake 
The Priory Hotel, Bath
Bronze: Christian Abbott
Brace and Browns in Bristol
Chef v Chef 2012
(under 16s)
Gold: Cerys Lambert
John of Gaunt School
Silver: Seb Shore
Norton Hill School
Jordan Millls
Writhlington Business & Enterprise School
(under 23s)
Gold: Christian Abbot
Brace & Browns
Silver: William Gayler
The Wheatsheaf, Combe Hay
Bronze: Laura Deaker
City of Bath College
(over 23s)
Gold: Stephen Whittaker
Mint Hotel, Bristol
Silver: Kamil Nawalka Wojciech
Longleat Homewood Park Hotel
Bronze: George Kosta
Ronnies Restaurant, Thornbury
Chef v Chef 2011
(under 16s)
Gold: Seb Shore
Norton Hill School
Silver: Alfred Lewis
Ralph Allen School
Bronze: Joshua Hobbs
Norton Hill School
(under 23s)
Gold: Chris Emery
The Wheatsheaf, Combe Hay
Silver: James Horwood
Hunstrete House
Bronze: Claire Wilkins
City of Bath College
(over 23s)
Gold: Timothy Ashton
Cheltenham Park Hotel
Silver: Kevin Francis
Guyers House Hotel
Bronze: Kamil Nawalka Wojciech
Bowood Hotel
Chef v Chef 2010
(under 16s)
Gold: Ashley McArdie
City of Bath College
Silver: Jake Moxham
City of Bath College
(under 23s)
Gold: Niall Keating
The Bath Priory Hotel
Silver: Jerry Adam
Olive Tree Restaurant
Bronze: Leah Wynes
Bowlish House
(over 23s)
Gold: Maiko FuKazu
City of Bath College
Silver: Thomas Hine
The Bath Priory Hotel
Bronze: Michael Sharp
Olive Tree Restaurant
Chef v Chef 2009
(under 16s)
Gold: Curtis Hill
Culverhay School (City of Bath College Apprentice)
Silver: Rosie Gay
Chew Valley School
Bronze: Lorna Burnell
Chew Valley School
(under 23s)
Gold: Ben McCubbin
Royal Crescent Hotel, Bath
Silver: Michael Mellard
Whatley Manor, Wiltshire
Bronze: Luke Powell
The Wheatsheaf at Combe Hay
(over 23s)
Gold: Woyciech Nawalka
Ston Easton Park Hotel, Ston Easton
Silver: Michael Sharp
Royal Crescent Hotel, Bath
Bronze: Callum O'Doherty
Thatched Cottage, Shepton Mallet
Regional Final Chef v Chef 2008
(under 23s)
1st: Leigh Evans
Royal Crescent Hotel, Bath
2nd: Sean Horwood
Moody Goose, Midsomer Norton, Bath
3rd: Sam North
The 3 Choirs Vineyard, Cheltenham
4th: Luke Hawkins
The Pony & Trap, Chew Magna
(over 23s)
1st: Robert Potter
The Dial House Hotel, Cheltenham
2nd: Pieter Swanepoel
Formerly Royal Crescent Hotel, Bath
3rd: Ryan Mills
The Greenway Hotel, Cheltenham
4th: Wojciech Nawalka
Ston Easton Park Hotel, Somerset
5th: George Kostka
Boca Bar, Bristol
Chef v Chef 2008
(under 23s)
Gold: Sean Horwood
Moody Goose
Silver: Leigh Evans
Royal Crescent Hotel
Bronze: Georgie Smith
City of Bath College
Finalists:
Jeremy Lapounge, Francis Hotel/Mercure
Ben Mullins, Lucknam Park Hotel
Charlie Johnston, Royal Crescent Hotel
(over 23s)
Gold: Pieter Swanepoel
Royal Crescent Hotel
Silver: Wojciech Nawalka
Ston Easton Park Hotel
Bronze: John Hornsey 
The Queensberry Hotel & Olive Tree Restaurant
Finalists:
Michael Boyce, Queensberry Hotel
James Perry, Dukes Hotel
Leigh Phillips, Firehouse Rotisserie
Chef v Chef 2007
(under 23s)
Gold: Maiko Fukazu
Full time student, City of Bath College
Silver: Martin Rode
Francis Hotel, Bath
Bronze: Laura Merrick
Woods Restaurant, Bath
Finalists:
Dean Mallows, The Old Bear Inn
Ben Hammett, Woods Restaurant
Oliver Battams, The Hole in the Wall
(over 23s)
Gold: Ross Lee Tyre
Cavendish
Silver: Elisha Carter
Charlton House Hotel
Bronze: Tom Symons
The Queensberry Hotel & Olive Tree Restaurant
Finalists:
Johnathan Gallais, The Old Bear Inn
Stephen Derry, Green Park Brassiere
E Wilcox, Thermae Bath Spa Hotel
Chef v Chef 2006
(under 23s)
Gold: Rob Tanner 
Full time student, City of Bath College
Silver: Sean Horwood 
Moody Goose at the Old Priory
Bronze: Adrian Luke Williams 
Dukes Hotel, Bath
Finalists:
Ben Gregory, Woolley Grange Hotel
Joe Pothecary, Woods Restaurant
David Wakefield, Woods Restaurant, Bath
(over 23s)
Gold: Paul Nicholson
Woods Restaurant, Bath
Silver: Jonathan Gallais
Old Bear Inn, Staverton
Bronze: Andew Smith
Avenance Catering, Wessex Water
Finalists:
B.Greig, RNID, Poolmead Centre, Bath
Daniel Stanson-Winter, Pastiche Bistro, Bath
Gary Monger, Centurion Hotel, Midsomer Norton